My visit to the Little School.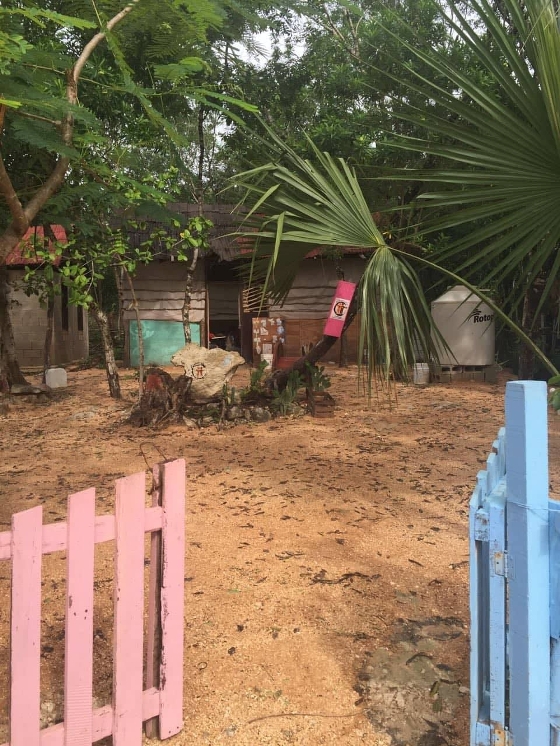 I was introduced to the idea of coming on a visit from my friend Lia Travati. Lia lives in my condo complex and has a heart of gold for children and animals. She is a former Olympic figure skater for Italy and a international skating coach. She made Mexico her home recently and found her place to volunteer. She makes a meal for the children once a week and helps organize volunteers for the school. My first thoughts were.. oh going to the jungle?? When I picture jungle it's like the deep amazon with long drive into dense foliage and wild life.. nope we are 15 minutes on a dusty very bumpy road from the highway. Lia had made a pot of pasta and when I say pot this was a huge pot the size of a large canner. We picked up two other volunteers one who had jugs of juice. Lia brings lunch once a week, the school solely depends on volunteers and donations. This little village is built running along the power line road since the jungle is to hard to work into for development and with no equipment or money the community uses the road as it is already cleared. There is a irony living along the government built road for power yet this community exist with no power. As we drive into the village I see a body of water with garbage strewn on top and a crocodile which looms through the water lilies. We arrive at a small building with about 80 little children anticipating the arrival of lunch. I stood for a moment to assess my area and became quickly diverted with helping Lia dish out helpings to the children small to oldest.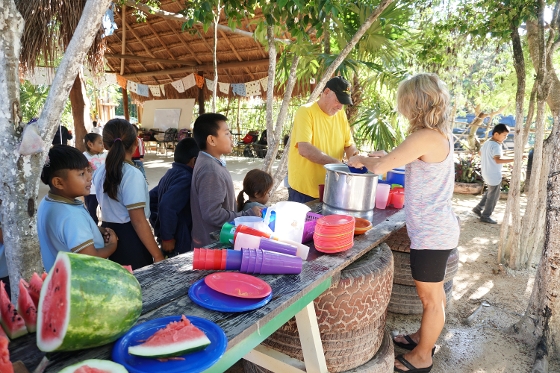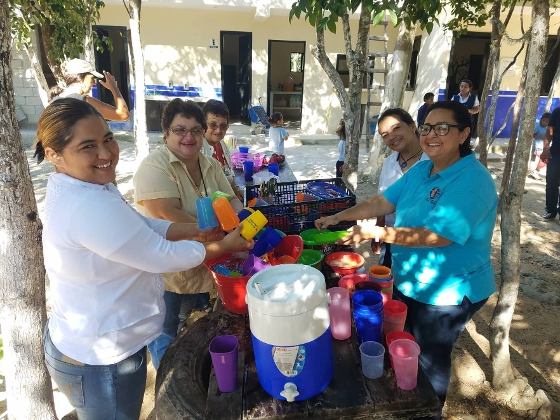 The feeling was incredible to be part of this moment and also very humbling at points. I was in disbelieve that only 20 minutes from my condo in Playa Del Carmen is a village with how I can only explain as lost.
The children were excited to help me take pictures and then school was to start. There were 4 areas for the volunteer teachers to work with kids. I stopped in on the English class first which was in a thatch type building and then the middle grades upstairs in a new building which was built with donations from the Catalonia Hotel and Resorts and then down stairs to a covered area where the oldest children are taught.. I realized my inability to speaking Spanish put me at a great disadvantage as I wanted to communicate. Note to self... Learn Spanish. Martha Honorina Herrera is the lady in charge and as far as I witnessed she is an amazing lady. Martha runs the school for the children who other wise would not get an education. They follow the states curriculum and she takes students to the City to get their papers when finished the grade. Martha is the roots to this school when volunteers forget to show up she is the one scrambling for lunch and help. Martha organizes to have professionals come in and speak with the children. Sometimes a speaker will come in to speak to them about abuse and alcoholism and how the children can learn coping strategies, other times it's a speaker on hygiene or like today it was two paramedics talking on safety. The children are so happy and it does not take much to make them happy a meal and some attention. These children don't have running water, electricity and struggle with the many social issues in a poor community.
One story brought tears to my eyes and I'm glad I am writing this not telling it verbally. This young man was in school with his siblings but was not eating. Knowing he was hungry Martha asked why he would not eat and his reply " I feel guilty eating when my mother has no food at home" Martha arranged to help his family with some food from her own sources and some donations.
As we were getting ready to leave two taxi's pulled up with donations for Martha and the school.
Lia says people ask what do they need just as I did and her answer to me was why don't you come visit and see. They need everything.
While I loved my visit I came back to the condo very quiet as I was absorbing my morning and thinking what Rob and I can do to help. As Real Estate Agents we think marketing and while thinking how do we get people to know more about these children and the amazing school.. Website popped in mind. We will work in the next month and design a simple website that will link to the schools facebook page hopefully to raise some awareness for the school.
Talking with Rob and being part of this school for the day made us think of our home and Canada and how within our busy lives so many children and families slip out of focus and sometimes it could be just a hand reach away and with just a little effort we could change a child's world.